As Seen On

Made By Hand, Made With Love
Meet Cindy & Lily
The Hungry Monkey Baking Company started in 2010, almost by accident…while she always wanted to bake for a living, her path had a few detours — from nonprofit development to marketing communications — until friends encouraged Cindy to bake her signature chocolate chip banana bread for a local two-day charity event benefiting children with learning disabilities. Since her daughter had early challenges, and she was her biggest banana bread fan, she immediately said "yes"! Her chocolate chip banana bread sold out both days. Soon people were calling, asking if they could stop by to pick up a loaf or two from her home. People needed their "fix," so Cindy rented a commercial kitchen and got busy. Weeks later she was selling at her local farmers' market with her two-year-old daughter, Lily, the hungry monkey, in tow — and a few months after in local grocery stores. And as they say, the rest is history.
Take A Look At What People Are Saying About Our "Crazy-Good" Sweet Treats!
"I ate the entire box; I love Hungry Monkey Baking!" "If I had the Golden Buzzer right now…!"
"The brownies are to die for!" "The banana bread is beyond anything I have ever eaten!"

HOWIE MANDEL (yes, that Howie Mandel!), April 2020
America's Got Talent Judge, Comedian, and Host of "Howie Mandel Does Stuff"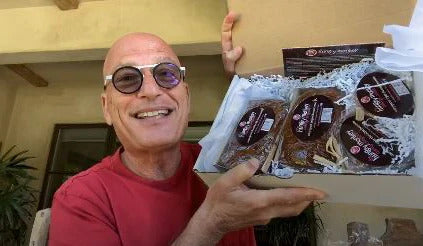 LOVED BY HOWIE MANDEL
Hungry Monkey is Awesome!

"I always have to order when my wife is traveling since she is so jealous that I love the hungry monkey baked goods! It's my secret pleasure. Until I get caught. But worth it!"
William S., September, 2022
FIVE STAR GIFT for my new College student!

"I sent this fabulously YUMMY box to my son who is a college freshie this Fall. I thought it was such a great way for him to share something with his roomie and new floormates in his dorm! He was so thrilled and gave the treats all 5 Star ratings. I plan on sending this to all my college newbies as gifts!"
Lori F, September, 2021
Above and Beyond!

"This order and delivery was perfect. My daughter called me in tears during finals and needed a virtual hug so I thought this was the best way to do it as I'm a baker but I live in MN and couldn't get to her fast enough. Thanks to the owner for the quick and heartfelt delivery. It really turned things around!"
Barbara W, April 2022
I had forgotten my mom's birthday and Hungry Monkey swooped in for the rescue! They quickly got my order delivered to my sister's address to accommodate my parents travel and save me:) The quality is always amazing and my parents are super excited to take their treats with them to their final florida destination!
Meredith Lankenau
This is the second time I ordered a gift for someone. I have never had such personal and fantastic customer service! Not only is the product delicious, but the personal service you receive is outstanding! Five stars for sure!
Sally Mann
We love Hungry Monkey! The Triple Chocolate brownies and the Chocolate Chip Banana bread are our favorite! My heart skips a beat every time I receive my care package in the mail!! So easy to order and so, so yummy!!!
Ines Morroni
"You nailed it!  I couldn't have been any happier ordering from Hungry Monkey for my corporate gifting. The attention to detail that you gave me, acknowledging the order so quickly, reaching out and customizing, and even suggesting the differently themed box sets were above and beyond. The clients' reaction was more positive than anything that I've done in the past.
Thank you SO much for knocking this out of the park for me!!"
-- Aaron M., Base Transportation, December 2022
Where To Buy All This Deliciousness!
We make it easy for you to get Hungry Monkey, wherever you are! Order now for nationwide shipping, visit select Chicagoland grocers, get delivery throughout Chicagoland and Sothern Wisconsin via Fresh Picks.
Corporate Gifting, Special Events, and Personalization
New: "Virtual Baking" Experience for Corporate Events
Let Hungry Monkey host your VIRTUAL BAKING EXPERIENCE! Our custom classes are built with you and your team in mind! Looking to enhance company culture with a different take on team building? Chocolate Cake? Vanilla Cupcakes? Whoopie Pies? No problem. We'll customize a delicious day -- or night -- for you!

Send your new starters or team members a Hungry Monkey gift package - we can customize the package for you tailored to your budget. We can include recipe cards and specific baking tools - feel free to get creative with us
Hungry Monkey Baking tailors your baking experience to your needs and event objectives; including employee recognition, key milestones and/or specific call-outs per your request.
Engage your employees and guests with a fun, thoughtful, sweet, and inclusive, experience they're guaranteed to remember!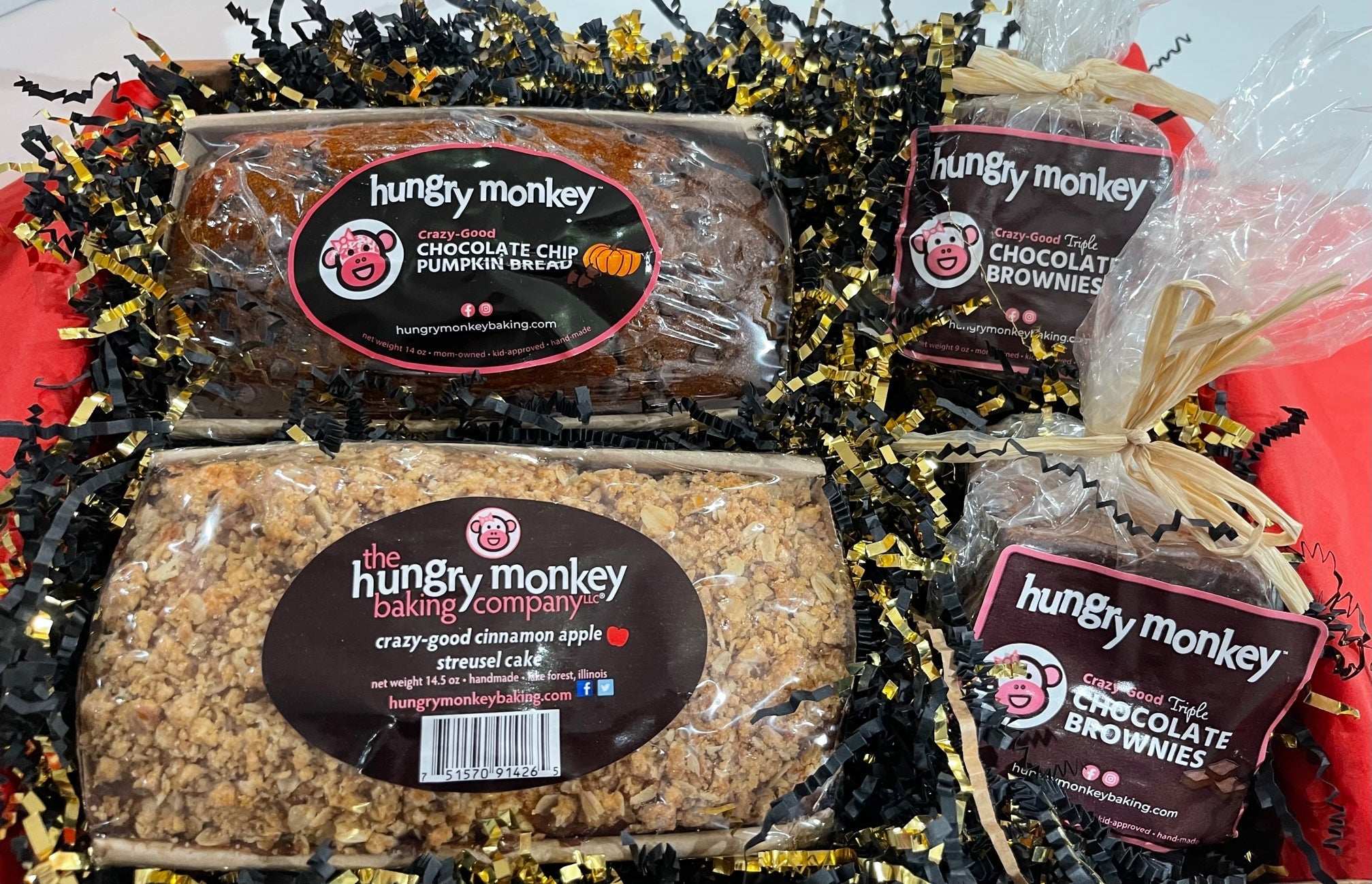 HUNGRY MONKEY'S BAKING BLOG
Enjoy this recipe for egg-free Oatmeal Lemon Crumble Bars
Happy Father's Day to all the Dads, Grandfathers, Dog & Cat Dads, Step-Dads, Like-Dads! This Sunday I'll be making Tres Leches again, but this time in Mason Jars. They've been a hit...
Enjoy our recipe for this delicious Chocolate Hazlenut Cake with a Nutella Glaze!